Meditate with Sahaja Yoga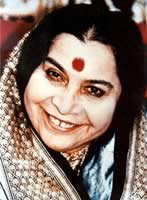 Sahaja mediation has been by Shri Mataji Nirmala Devi in 1970 and has since spread all around the world.
In Shri Mataji's said, global unity can be acheved if every person transforms themselves into a radiant spiritual being
According to Sahaja Yoga the meditator will experience divine cool breeze radiating throughout the soul and body. the aim of the yoga is to really get to know the self as a spiritual being.
To learn more about Sahaja Yoga please visit their official website www.sahajayoga.org
Meditate on love and Joy
This inner awakening is called by many names: Self Realization, Enlightenment and Liberation, and it is the goal of Sahaja Yoga to achieve this whilst medtating.
Become light -meditate today
To meditate is to love the self and others
Let peaceful thoughts flow into your mind like streams flows into the ocean